When it comes to our beloved devices, finding a reliable and skilled mobile repairing shop is crucial. iRepair, known as the Best Mobile Repairing Shop in the UK, stands out in the market for its exceptional service and expertise. In this comprehensive guide, we'll walk you through the steps to choose the right mobile repairing shop for your device, ensuring it's in safe hands.
Learn More About iRepair – Best Mobile Phone Repairing Shop UK
---
Why Trust iRepair? Best Mobile Repairing Shop in UK
In a market flooded with options, it's essential to select a repairing shop you can trust. iRepair holds an unmatched track record of excellence, backed by a team of certified technicians and a long list of satisfied customers. Their reputation speaks volumes, making them the go-to choice for mobile repairs in the UK.
When you choose iRepair Mobiles, you're not just entrusting your device to a run-of-the-mill shop; you're opting for a service that embodies trustworthiness and proficiency. The testimonials of countless patrons serve as a resounding endorsement of iRepair's credibility and dedication to customer satisfaction.
Visit Your Nearest Outlet Today
---
Services Offered
At iRepair, the range of services is as extensive as it is reliable. From screen replacements to battery repairs and even intricate motherboard fixes, they handle it all. Their expertise covers a wide spectrum of brands and models, ensuring that your device will be treated with the utmost care, regardless of its make.
Our commitment to excellence extends beyond just fixing the immediate issue – we take the time to conduct thorough diagnostics to ensure all potential problems are addressed. With iRepair, you can trust that your device will receive the highest standard of care, using only genuine and top-quality replacement parts.
Contact Now For Our Comprehensive Services
---
Experienced Technicians
The backbone of any reputable mobile repairing shop lies in its technicians. iRepair takes pride in its team of seasoned professionals, each equipped with the knowledge and skills needed to diagnose and resolve even the most complex issues. Their expertise extends beyond common problems, ensuring a solution for every device-related concern.
From diagnosing elusive software glitches to executing intricate hardware repairs, our technicians demonstrate a level of proficiency that sets them apart in the industry. They approach each repair with a meticulous attention to detail, leaving no stone unturned in their pursuit of excellence.
---
Premium Parts Guarantee
One of the biggest concerns when it comes to device repairs is the quality of replacement parts. iRepair Mobiles alleviates this worry by providing a premium parts guarantee. You can rest assured that any components replaced in your device are of the highest quality, ensuring optimal performance.
This guarantee not only extends the lifespan of your device but also safeguards it against potential future issues. We firmly believe that using genuine parts is a testament to our dedication to providing top-notch service and ensuring the satisfaction of our valued customers.
---
Customer Testimonials
Don't just take our word for it. The satisfied customers of iRepair have shared their experiences, highlighting the exceptional service and timely repairs they received. Their glowing testimonials serve as a testament to iRepair's commitment to customer satisfaction.
From shattered screens to intricate motherboard issues, the testimonials echo a consistent sentiment of trust and reliability. It's heartening to see the relief and gratitude in the words of satisfied customers, knowing that their prized devices were returned to them in pristine condition.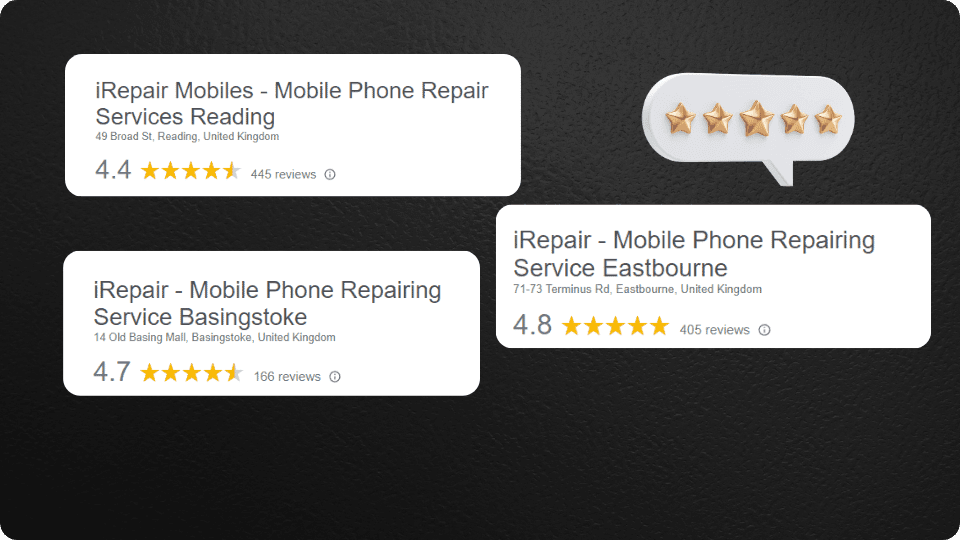 Ready to experience top-notch mobile repair services?

Visit our nearest iRepair location today, or securely post your device to us for swift and expert repairs. Your device will be in the best hands with our skilled technicians. Get started now for a seamless mobile experience
---
Transparent Pricing
Hidden fees and unexpected costs are a common frustration in the repairing industry. iRepair, however, takes a transparent approach to pricing. You'll receive a clear and detailed quote before any work begins, ensuring you know exactly what to expect.
Our goal is to build trust with our customers, and transparent pricing is one of the ways we do it. We want you to feel confident and informed throughout the entire repair process, from the moment you walk in our doors to the moment you leave with your fully repaired device.
---
Turnaround Time
In today's fast-paced world, a quick turnaround time is essential. iRepair understands the urgency of having your device back in your hands. Their efficient processes and dedicated team work tirelessly to ensure your device is repaired promptly without compromising on quality.
This swift service is a testament to our proficiency and dedication to customer satisfaction. Whether it's a cracked screen, a software glitch, or a more complex hardware issue, we understand the inconvenience a malfunctioning device can cause.
---
Convenience at Its Core
iRepair believes in making the entire process as convenient as possible for customers. With multiple service centres across the UK, you're never far from a reliable iRepair location. Additionally, they offer hassle-free pick-up and delivery options, sparing you the hassle of an extra trip.
This thoughtful service spares you the inconvenience of making an extra trip to a service center, allowing you to carry on with your day without disruption. It's this dedication to convenience that sets iRepair apart, making the process of mobile device repair not only reliable but also effortlessly easy for their valued customers.
---
Expertise in Your Device Model
Not all devices are created equal, and neither are their repair requirements. It's crucial to choose a shop with expertise in your specific device model. iRepair's technicians are well-versed in a wide range of brands and models, ensuring that your device is in capable hands.
At iRepair, we specialize in the expert repair of a diverse range of mobile devices. Our skilled technicians are particularly adept at handling various models from the most popular series in the market. For iPhones, we excel in repairing the latest models from the iPhone 15 series to the enduring classics of the iPhone 7 series.
Samsung users can trust us with their devices, be it the cutting-edge Galaxy S21 series or the versatile Galaxy A series. Additionally, our proficiency extends to Google Pixel devices, from the sleek Pixel 8 series to the pioneering Pixel 1 series. Rest assured, your device will receive meticulous care and precise repairs at iRepair.
This expertise allows them to accurately diagnose and address any issues that may arise, providing tailored solutions that are specific to your device's make and model. Rest assured, when you entrust your device to iRepair, you're placing it in the hands of experts who are dedicated to restoring it to its optimal functionality, regardless of its unique specifications.
Get The Best Refurbished Phones
---
Personalized Care for Your Device
Each device carries a unique set of functionalities and potential issues. iRepair understands this and provides personalized care for every device that comes through their doors. Whether it's a software glitch or a hardware malfunction, their technicians take the time to diagnose and address the issue accurately.
This level of attention ensures that the repair process is not only precise but also tailored to the unique needs of your device. It's this dedication to personalization that instils confidence in customers, knowing that their devices are in the hands of experts who treat each one as if it were their own. This meticulous care translates to a seamless repair experience, where every issue is addressed with accuracy and expertise.
Embark on a journey, let your device find its shore, To iRepair's embrace, where excellence is in store. Through skilled hands and care, we'll mend and restore, A mobile masterpiece, like never before.
---
Conclusion
Choosing the right mobile repairing shop is a decision that impacts the longevity and performance of your device. We, at iRepair, with our unmatched expertise, genuine parts guarantee, and stellar customer testimonials, emerge as the top choice for mobile phone repair in the UK. Trust your device with us, and experience seamless repairs with iRepair.
Additionally, our dedication to efficiency means that your device will be returned to you promptly, without sacrificing the quality of our repairs. With multiple service centers across the UK and convenient pick-up and delivery options, we strive to make the entire process as hassle-free as possible for our valued customers.
---