Description
Upgrade Your Mobile Experience with the Refurbished Samsung S21 5G!
Elevate your smartphone game with the stunning and powerful Used Samsung S21 5G. Seamlessly blending cutting-edge technology with sleek design, this device promises to revolutionize your daily routine.
5G connectivity
Experience lightning-fast 5G connectivity that lets you stream, download, and connect at unprecedented speeds. Say goodbye to lag and buffering, and immerse yourself in the seamless online experience you've always craved. Capture life's moments in breathtaking detail with the S21's advanced camera system. From vibrant sunsets to energetic group selfies, every shot will be a masterpiece. Share your memories with loved ones and on social media with confidence, thanks to the unrivaled clarity and quality of your photos.
Crystal-clear visuals
The Samsung S21 5G doesn't just keep up with you – it empowers you. Its powerful processor ensures smooth multitasking, enabling you to effortlessly switch between apps and activities without missing a beat. Whether you're conquering your work tasks or diving into your favorite entertainment, this device is your ultimate companion. Enjoy crystal-clear visuals on the S21's stunning AMOLED display. Whether you're watching movies, playing games, or browsing the web, every pixel comes to life with vibrant colors and sharp contrast. Your content has never looked this good.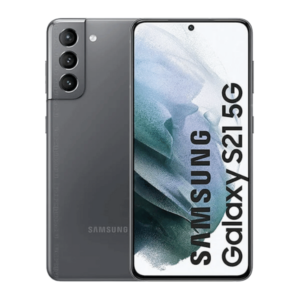 Battery
Worried about running out of battery? The S21's efficient battery management keeps you powered up all day long. No more interruptions in the middle of important conversations or entertainment. Stay connected and entertained without compromise. Make a statement with the modern and sleek design of the Samsung S21 5G. Its premium materials and attention to detail ensure that it's not just a device – it's a fashion statement. Ready to take your smartphone experience to the next level? Grab the Used Samsung S21 5G today and enjoy unparalleled speed, stunning visuals, and a device that's as unique as you are.