Description
Refurbished iPhone 12 5G: Premium Technology at an Unbeatable Value
In the ever-evolving world of smartphones, finding the perfect balance between cutting-edge features and affordability can be a daunting task. But fear not! The solution lies in the refurbished iPhone 12 5G – a true gem that offers top-notch technology without breaking the bank. Let's explore why this device is worth your attention.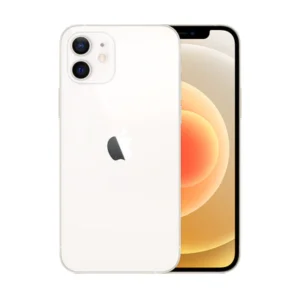 Unleashing the Power of 5G Connectivity
The iPhone 12 5G takes mobile connectivity to new heights with its 5G capabilities. Embrace lightning-fast data speeds, reduced latency, and enhanced network reliability. Whether you're streaming high-definition content, video conferencing with colleagues, or engaging in immersive gaming, 5G ensures a seamless experience.
Environmentally Conscious Choice
Purchasing a refurbished iPhone 12 5G not only saves you money but also contributes to a greener planet. By choosing a renewed device, you actively participate in reducing electronic waste, making a positive impact on the environment.
Elegant Design and Display
The iPhone 12 5G continues Apple's legacy of elegant design. With its slim and modern aesthetic, it's a device that exudes sophistication. The 6.1-inch Super Retina XDR display captivates your senses with its vivid colors and true blacks, delivering an immersive visual experience like never before.
Performance Beyond Expectations
At the heart of the iPhone 12 5G lies Apple's A14 Bionic chip – a marvel of engineering. This powerhouse ensures smooth multitasking, fast app launches, and seamless performance even with the most demanding tasks. Whether you're editing videos, playing graphics-intensive games, or working on creative projects, the iPhone 12 5G handles it all with ease.
Capture Life's Precious Moments
With its advanced camera system, the iPhone 12 5G lets you become a photography maestro. The dual 12MP rear cameras, including an Ultra-Wide lens, capture stunning landscapes and detailed shots. Take your videography to the next level with 4K Dolby Vision HDR recording. The 12MP TrueDepth front camera guarantees you look your best in selfies and video calls.
Reliability and Assurance
We understand that buying a refurbished device may raise concerns about quality and reliability. Rest assured, each iPhone 12 5G undergoes a meticulous refurbishment process. Our expert technicians conduct comprehensive inspections and testing to ensure the device meets the highest standards. Additionally, your purchase comes with a warranty, providing peace of mind and protection against unexpected issues.
Endless Possibilities with the App Store
With the refurbished iPhone 12 5G, you gain access to the vast and diverse App Store. Discover and download an array of apps that cater to your interests, from productivity tools to entertainment options. Personalize your iPhone experience and enhance your daily life with the best apps the digital world has to offer.
Secure Your Refurbished iPhone 12 5G Today
Now is the perfect time to join the 5G revolution without straining your budget. Invest in a refurbished iPhone 12 5G and unlock a world of possibilities. Stay connected, capture memories in stunning detail, and enjoy top-tier performance – all without compromise.
Upgrade your smartphone experience with the refurbished iPhone 12 5G and embrace the perfect combination of premium technology and unbeatable value!
Why Choose a Refurbished iPhone 12 5G?
Cost-Effective: Refurbished iPhones offer substantial savings compared to their brand-new counterparts. You get a top-tier device at a fraction of the original price, making it an excellent option for budget-conscious shoppers.
Same Great Quality: Don't let the term "refurbished" mislead you. These iPhones undergo rigorous testing and refurbishment procedures to ensure they meet the same quality standards as new devices. You'll receive a device that looks and functions like new.
Environmental Impact: By choosing a refurbished iPhone 12 5G, you actively participate in reducing electronic waste and conserving valuable resources. This eco-friendly choice aligns with your desire to make sustainable decisions.
Warranty Coverage: Most reputable sellers of refurbished iPhones offer a warranty to provide peace of mind to their customers. This warranty typically covers any technical issues that may arise, giving you added protection for your investment.
Unlocked and Versatile: Refurbished iPhones are usually unlocked, allowing you to use them with any compatible carrier. You're free to choose the network and plan that best suits your needs.
Fully Inspected and Certified: Reputable sellers subject each refurbished iPhone 12 5G to a comprehensive inspection and testing process. This ensures that the device is in perfect working condition and meets industry standards.
Supported by Apple: Apple supports refurbished iPhones, and they often come with the latest iOS updates and security patches, just like new devices. You won't miss out on any software features or improvements.
Making the Purchase
When shopping for a refurbished iPhone 12 5G, it's essential to choose a trustworthy seller. Look for sellers with positive customer reviews and a transparent refurbishment process. Verify that the device's condition is accurately described, and ensure that a warranty is included for added protection.
In conclusion, a refurbished iPhone 12 5G is an exceptional choice for those seeking a premium smartphone without a premium price tag. With its powerful 5G capabilities, elegant design, and outstanding performance, this device delivers an unparalleled user experience. Make the smart choice and join the ranks of satisfied users who have embraced the value of a refurbished iPhone 12 5G.
Upgrade your smartphone experience today and unlock the full potential of 5G technology with a refurbished iPhone 12 5G!